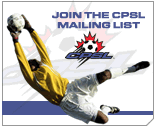 League Sponsor
League Sponsor

League Sponsor


League Sponsor

THUNDER DOWN 3-0 BUT WIN 4-3 TO TOP WESTERN CONFERENCE
Hitmen and Dynamites also win on Sunday
Hamilton Thunder made a remarkable recovery after being 3-0 down in the second half to score four unanswered goals for a 4-3 win over London City at Brian Timmis Stadium, one of three games played on Sunday in the Canadian Professional Soccer League.
At about the same time late in the afternoon, Laval Dynamites atoned for a 4-3 loss on Saturday by defeating Metro Lions, 2-1, in a rough encounter at Birchmount Stadium in Scarborough, and in an evening game Brampton Hitmen hit Durham Flames, 3-2, to hand the Oshawa-based club its eighth league loss of the season.




UNBEATEN SUPRA WINS SIXTH STRAIGHT
Friday, Saturday Match Details
Unbeaten Toronto Supra won their sixth in a row, five in regular league play, with a 4-3 defeat of Laval Dynamites at Dufferin Clark, the only game in the Canadian Professional Soccer League on Saturday. The win moved Supra to a first place tie with Ottawa Wizards in the Eastern Conference. Both teams now have 16 points.
The win came after St. Catharines Roma Wolves vaulted to the top of the Western Conference following their 2-0 shut out of Toronto Croatia at Memorial Park in Mississauga 24 hours earlier.
Metro Lions came alive with their first league win of the season on Friday, defeating London City 1-0 on City's ground of Cove Road and in a third game played in the CPSL that night, Vaughan Sun Devils again looked strong with a 3-1 win over a slipping North York Astros at the Dufferin Clark ground in Vaughan just north of Toronto.




TORONTO CROATIA PICKS UP FIRST WIN
North York Astros blanked 2-0 at Esther Shiner Monday
Toronto Croatia picked up their first win of the season with a 2-0 victory over North York Astros at Esther Shiner Stadium in North York, the only game played in the Canadian Professional Soccer League on Monday night.
The win caused a sigh of relief in the Croatia team following what is considered to be the worst beginning to a season in the long history of a club that goes back several decades.
It took Croatia 430 minutes of playing time over five games before scoring their first league goal in a 2-1 loss to Brampton on July 4. In addition to five league losses, the Mississauga-based team were also eliminated from the Open Canada Cup, a 4-2 loss to Toronto Supra on June 29.




UPCOMING GAMES - Note: Home team listed first

Jul 16 8:15 pm:
Club Roma, St. Catharines Wolves vs Toronto Croatia
Jul 17 8:30 pm:
Brian Timmis, Mississauga Olympians vs Hamilton Thunder
Jul 18 8:30 pm:
Centennial Stadium, Toronto Supra vs Vaughan Sun Devils
Jul 18 8:30 pm:
Cove Road, London City vs Brampton Hitmen
Jul 19 4:00 pm:
Civic Stadium, Durham Flames vs Ottawa Wizards
Jul 20 4:00 pm:
Birchmount Stadium, Metro Lions vs Ottawa Wizards
Jul 20 7:30 pm:
Victoria Park, Brampton Hitmen vs Toronto Croatia
Jul 21 8:30 pm:
Esther Shiner, Mississauga Olympians vs North York Astros

= Canada Cup Game
Note: See team pages for stadiums or contact
CPSL










League Sponsor