It took a week of uncertainty and a day of frustration not knowing if Friday's wild card game would be allowed to take place. Add three weekend games of fast-paced bone crunching soccer, the drama that is golden goal overtime, all followed by eight nail-biting penalty kicks.
But when it was all over, London City had won the Open Canada Cup and a $10,000 cash prize, defeating Metro Lions and it happened before home fans at Cove Road in London on Labour Day Monday.
If ever there is such a thing as agony and ecstacy in soccer, this had to be it.
"Yes, it is our biggest win since the team was formed 30 years ago,"said Harry Gauss, the owner of a team that London calls its own and he certainly has the fans to prove it judging by the urging that came from many who seemed to be saying in a steady light rain that this is the end of summer and I'm going to make the most of it.
"But never in a 100 years would I think we would go through this to do it," he added.
London City nipped Metro Lions on penalty kicks following 90 minutes of regular play and 30 minutes of overtime that produced a 1-1 tie and two tired teams that gave it everything you would expect of a cup final.
The win gave London the first Open Canada Cup, the first time pro and amateur teams-- 22 in all--l had come together in Canadian soccer to play a club championship. It's the beginning of an all-Canada competition under the auspices next year of the Canadian Soccer Association to produce a Canadian club champion to go into the CONCACAF playoffs.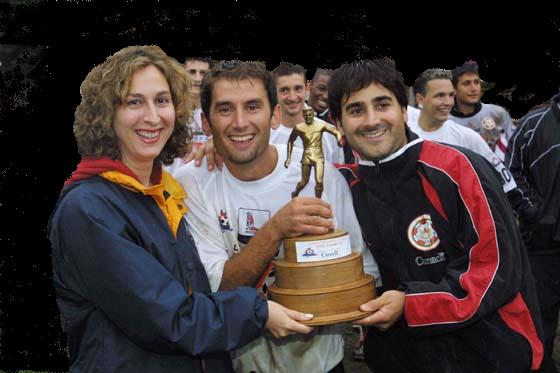 Mayor of London Anne Marie De Cicco presents the Open Canada Cup to a jubilant London City.
When Luan Jonuzi found the net with the fourth penalty kick for London City, it was all over. His goal followed three successful spot kicks from team-mates Eris Tafaj, Gentjan Dervishi and Erik Elmauer, while Jason Baker and Darryl Gomes hit the net for Metro Lions, but Kareem Reynolds and Hayden Fitzwillaims didn't.
It was Dervishi who gave London the lead in the first half and Craig Patton who tied for Metro Lions after the interval in a game that appeared to become more physical with time. The main casualty was London's Tonino Commisso, ejected by referee Silviu Petrescu on being shown a second yellow card 35 minutes into the second half, leaving a tiring London team with 10 men and well into their third game since Friday.
The 1-1 tie at the end of regulation time became 1-1 after overtime and Jonuzi's goal from the spot to end the once dreaded penalty kicks threw the home crowd into a frenzy.
London defeated Durham Flames, 4-1, in Friday's wild card game, then won its semi-final, 2-0 over Kanata on Sunday. Metro Lions downed St. Catharines Wolves, 3-1, in the other semi-final.
Back