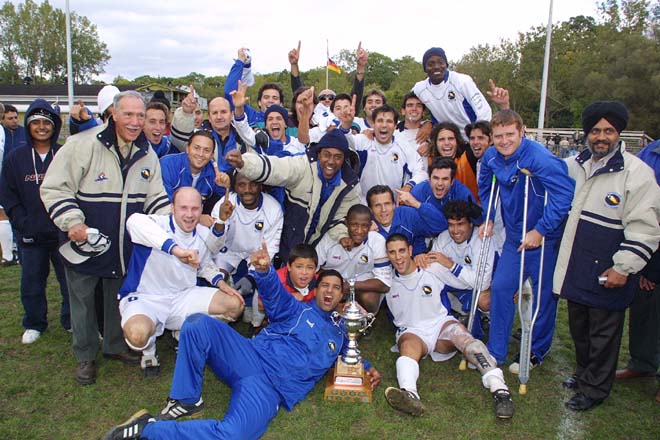 A goal by Brampton Hitmen forward Kurt Mella at the 27th minute mark stood up to give his team a 1-0 win over Vaughan Sun Devils in the Rogers Cup Final for the championship of the Canadian Professional Soccer League at London Sunday.
While team founder and head coach Steve Nijjar said the championship win is a dream come true, team manager Hector Marinaro expressed a high level of team spirit in his enthusiasm at the end of the game.
Vaughan Sun Devils played with 10 men for an uphill battle most of the game after defender Chris Turner was ejected for violent conduct at the 18th minute mark.
The win ended a five-month long season for the CPSL, Canada's only complete professional soccer league and it is the first major win for the Hitmen since they joined the 13-team loop three years ago.
The Hitmen showed early signs this season the team was much stronger than last season and during the latter stages of the campaign there was always a possibility they might hold on to the top position, but Hamilton Thunder eventually took over to win the Western Conference.
Last year Brampton had a 4-10-5 WLT record for just 17 points and that improved dramatically this year to 10-5-3 for 33 points.
Brampton Hitmen defeated London City 2-1 in Friday's wild card game to reach the final, while Vaughan reached the final following a 2-0 shutout of Hamilton Thunder on Saturday.
Phil Ionadi, captain of the Brampton team was voted the league's MVP.
Hector Marinaro, the Hitmen team manager who did some coaching in the final game, himself a former professional player in Argentina and Europe, attributed Brampton's win to an improved team spirit with hard work by players who must train several times a week while holding another job.
"They have worked very hard for this and the win is also for the Brampton community which has been very supportive of the Hitmen since we kicked off in 2000," he explained.
Steve Nijjar, who has coached the team all season, was ecstatic in bringing the championship to his community at such an early stage since he decided to launch the first professional soccer team in Brampton three years ago.
"Yet not really surprised--we did a lot of good work in the pre-season and the team had some rythm to it as time went by, including keeping more possession of the ball." explained Nijjar
This may sound strange to some people, but there has been a nice flow to our game, almost like a dance sequence. That, with the proper training, has really paid off," he added.
Back