Whatís in a name?
For Vaughan Shooters itís another important milestone in an expanding organization that has all soccer can offer a youth player looking for a
leg-up to the big time.
The team from York Region that finished an impressive third in the Eastern Conference standings at the end of the 2003 season and went on to the Rogers Cup Final for the championship of the Canadian Professional Soccer League, losing 1-0 in a squeaker to Brampton Hitmen on October 5, has changed its name from Vaughan Sun Devils to Vaughan Shooters.
Vaughan Shooters emerge from a two-year attempt to rationalize professional soccer in the vast York Region that saw Tony De Thomasis take over York Region Shooters late 2002 and for the 2003 season combine with Vaughan Sun Devils, earlier known as Glen Shields, to form one, stronger pro team in the region.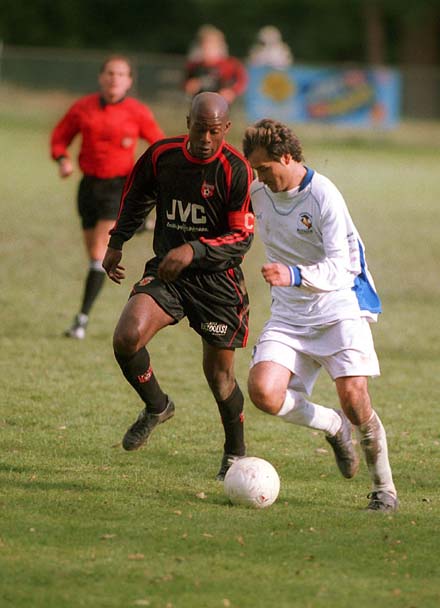 Vaughan's Tony Marshall (left) will be back as a
Vaughan Shooter next season.
The move paid off for a struggling fourth place York Region Shooters in the 2002 season and Vaughan Sun Devils a lowly sixth in the standings, to one team that last year always gave the impression success was just around the corner.
De Thomasis had for years championed the cause of youth players while with Glen Shields and the Vaughan Soccer Club.
So look for Vaughan Shooters in 2004 and if Tony De Thomasis has his way, there will be even more opportunity for promising youth players to mature at the tough, higher CPSL level of competition.
And we all know that could be just a step away from soccerís world stage and the big time.
Back