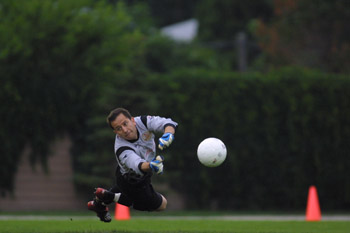 GEORGE AZCURRA
Toronto Croatia and Locust
Alen Marcina, Kevin De Serpa and Dave Simpson, are just three of a number of players having played in the CPSL who are being considered by overseas clubs during this off season and we'll keep you posted if any trials result in a contract being signed. And we'll update you on other CPSL players being drafted by A-League clubs and by Major League Soccer in the U.S. ………..
Locust International, the official supplier of the CPSL match ball in Canada, has partnered with the Barbados Football Association as the official supplier to the Barbados national teams for the next three years………George Azcurra, the standout goalkeeper with Toronto Croatia has joined CPSL-sponsor Locust.……..
London City, winner of the Open Canada Cup last season, has been operating now for 31 years with an anniversary launch date of February 14. Club president Markus Gauss has announced Eris Tafaj, 23, the standout midfielder sometimes striker, as the club's MVP. London's Rookie of the Year Award went to defender Jeffrey Russell, 22, and the Most Dedicated Player Award and the first player to win this award two years running, went to Ken Kopko, a defender. The City will be defending its Open Canada Cup title against some stiff opposition as the CPSL lifts its Ontario and Quebec-only restriction to allow teams from other parts of Canada into the mix…………
Esther Shiner Stadium, home of the North York Astros, is having FieldTurf installed this year and this follows the installation of that surface at The Soccer Centre where Vaughan Shooters will be playing their home games. Toronto Supra has reported that Brockton Stadium will also be resurfaced with the FIFA-approved synthetic this year or next.
Back