Ottawa Wizards defeated Toronto Croatia by a 1-0 score on a strike by Kevin Nelson at the 55th minute mark to win the CPSL Canada Cup at Cove Road in London on September 29.
The game was an end-to-end affair in which either team could have claimed victory. The Wizards earned their place in the final by defeating London City 3-0 in a Wild Card game the previous Friday and Brampton Hitmen 1-0 in the semi-final on Saturday. Toronto Croatia advanced to the final by defeating Vaughan Sun Devils 3-2 in their semi-final on September 28.The score was tied 2-2 after 90 minutes then 30 minutes of scoreless sudden death overtime, leading to a 7-6 Croatia win on penalty kicks.
In the first semi-final early evening on Saturday, Tony Marshall opened the scoring after 17 minutes for the Sun Devils, a 35 yard drive that left Croatia goalkeeper with little chance to make the save, and Josip Juric tied the score five minutes later on a breakaway.

Following a 1-1 tie at half-time, Gus Kouzmanis put Vaughan in the lead on a penalty kick after Willy Giamarra was brought down by an untidy challenge just inside the penalty box. It was also a penalty kick that put Croatia back into the game and this came just when all appeared lost for the Mississauga-based team with less than a minute remaining in added time.Toronto Croatia defender Robert Fran made no mistake from the spot. It was a 2-2 tie at the end of regulation time followed by two-15 minute overtime periods and penalty kicks were taken with Sun Devils missing three, Toronto Croatia failed to convert on two, for a 7-6 margin, giving Toronto Croatia a 3-2 win to advance to the final.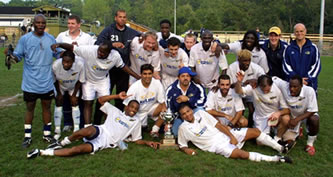 Ottawa Wizards celebrate winning the inaugural CPSL Canada Cup
Abraham Osman scored his 11th goal of the season to give his Ottawa Wizards the 1-0 win over a gallant Brampton Hitmen squad that fought to the bitter end to avoid defeat.The goal came almost right on 90 minutes and after the Hitmen came close to finding the net twice, including striking the crossbar.
Back